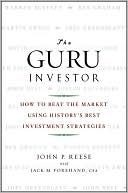 The Guru Investor: How to Beat the Market Using History's Best Investment Strategies
By John P. Reese with Jack M. Forehand 318 pp.  Wiley, John & Sons, Incorporated
The Guru Investor by John P. Reese with Jack M. Forehand is a book filled with practical investing advice. I rate it the number-one book currently in the practical investing with fundamental analysis category because it gives the formulas for stock picking used by ten master investors.
These ten master investers are the following: Benjamin Graham, John Neff, David Dreman, Warren Buffet, Peter Lynch, Kennth L. Fisher, Martin Zweig, James O'Shaughnessy, Joel Greenblatt, and Joseph Piotroski.
John Reese is an honest man when he confesses that he has bad stock-market instincts and has made about every mistake possible investing his own money. After using his guru-based models to develop 10-stock portfolios, Reese states that his portfolios have beaten the S & P 500 since their inception.
So the book's thesis is that if you apply Reese's guru-based formulas to your stock picks and consistently monitor and sell the stocks that no longer meet the formulas' criteria replacing them with stocks that do, you can be a financially successful investor and beat the market.
Read this immensely practical and fact-packed book and discover if it meets your investment needs.