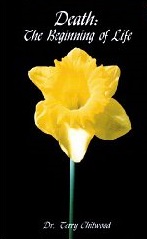 Death: The Beginning of Life is a book about dying—old beliefs, old attitudes, old yous. Parts of my ego died while writing this book. And, parts of your ego may die while reading It."
Topics include: The Inner Journey, Depth of Experience, Consciousness, Psychopathic Society, Shadow, The Perilous Journey, The Battle, Saving the World, Solitude, Slowing Down, On Dying and The Daffodil.
Readers expressed that the book made them think deeply about their lives and their world. They felt moved—riding on a deep river of consciousness toward the meaning of life. One man told me that it was the most insightful book he has ever read.